EZ Probability Analysis - Report 1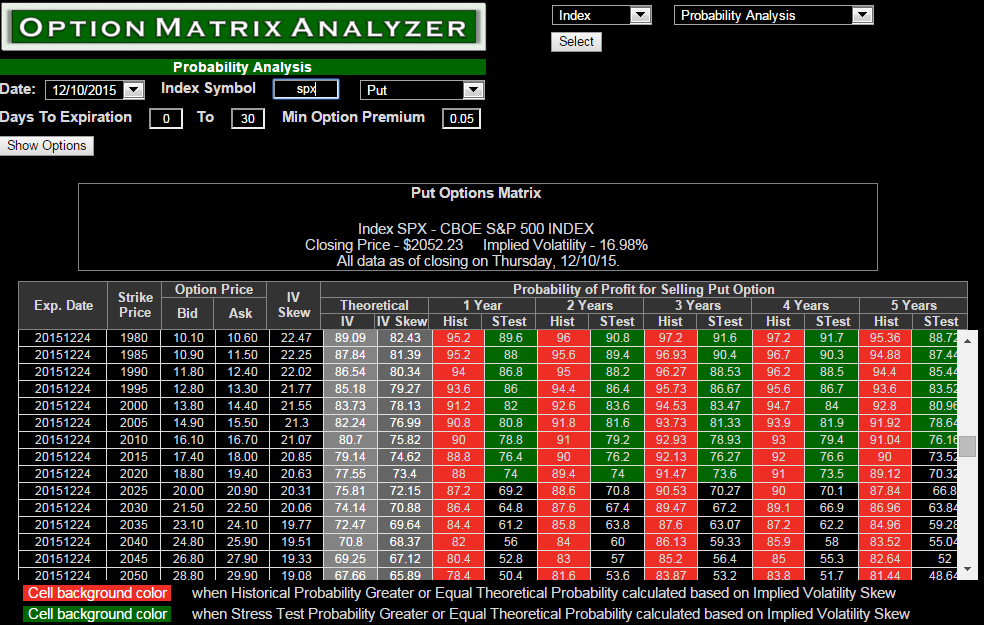 This report allows you to pick a specific underlying, range of days to expiration, and minimum option premium, as well as a specific strategy; short put, short call, covered call and covered (or married) put. The matrix will then give you a report showing you how frequently (as a percentage, or probability) the trade would have profited over a 1, 2, 3, 4 and 5 year period. All strikes are individually analyzed in two different ways.
First, the trade is assessed against historical movement of the underlying for the period of time being reported (again, one through five years.) Since over that period of time the underlying's price varies, each period of time is analyzed in such a way as to normalize the movement before being reported, so you get a true picture of how your trade would have performed in past markets.


The trade is then assessed against Eztrade's unique "Stress Test" indicator. Rather than assume a particular movement being tested is in one direction, the stress test assumes the magnitude of the movement could have been in either direction, and calculates the probability of profit under these difficult conditions. For example, if you are testing a short put strategy and during the testing period your underlying moved up five percent in one cycle, the stress test would also include a data point assuming the underlying moved down five percent. Thus, your probability of profit in a stress test will always be equal to or lower than the actual historical probability of profit.
The matrix will then present the theoretical probability of profit with the current underlying's implied volatility, as well as a second column with the theoretical probability of profit using the implied volatility skew. Utilizing the skewed column, the probabilities are then color coded on the matrix. If the historical probability of profit is higher than the theoretical (in other words, actual results are better than predicted by the option's pricing), the column will have a red background for each strike in which the condition holds. If the stress test probability of profit exceeds the skewed probability of profit, the background is green for each applicable strike. This provides an exceedingly strong trade cue for the experienced trader.